Former Workshop Fraserburgh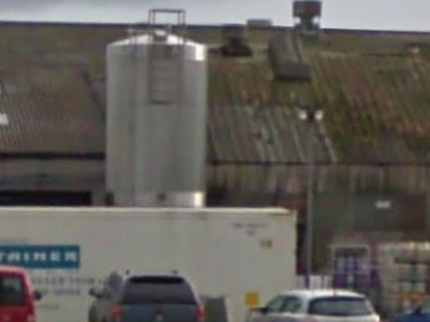 Kessock Workshops, Fraserburgh
CLIENT:
Aberdeenshire Council
LOCATION:
Fraserburgh, Aberdeenshire
DATE COMMENCED:
August 2015
DURATION:
2 Months
ACCIDENTS/INCIDENTS:
0
RECYCLE RATE:
97%
VALUE [INCL CREDITS]:
Circa £53,000.00
DESCRIPTION OF WORKS:
The works consisted of the demolition and asbestos removal of the former electroplating workshop in its entirety. The workshop was constructed of a steel portal frame with masonry infill panels with asbestos cement cladding to the roof and upper walls. The building was in a dangerous condition and in close proximity to adjoining units some of which are occupied. In particular there was an  adjacent NHS Needle Exchange where access had to be temporarily suspended whilst works were in progress.
Access to site was via the existing business park access road, which is shared with the adjacent units. The workshop, scheduled for demolition was enclosed with temporary fencing sections whilst the site compound was located within the existing car parking area at the front of Units 1,2 and 3. A fencing corridor was erected and monitored by a designated banksman to provide safe access to the rear of Unit 14 (NHS Needle Exchange) as required.
Sequencing of Operations
Adequate DANGER/DEMOLITION warning signage was displayed around the site attached to the existing perimeter temporary fencing panels.
The site accommodation and facilities were established by George Beattie & Sons Ltd prior to the commencement of any downtakings.
The status of the disconnection of services was determined before the start of the works, and isolation certificates retained in the site file.
Health and Safety was monitored on site on a daily/weekly basis by site supervisor/manager. Safety was monitored by means of site periodic inspections and site audits with all site personnel being given regular toolbox talks. Regular time out safety meetings were held on site to inform personnel of any changes or updates to site rules, Risk Assessments, Method Statements etc.
Dusts and noise were monitored on a regular basis and if necessary a dust boss water suppression unit was used to reduce the dust levels to an acceptable level.
Noise barriers were used as necessary if noise levels were too high; this helped control the noise levels to below action level of 85 decibels.
Transported to site sufficient sections of Heras fencing in order to effectively enclose the workshop scheduled for demolition. Attached DANGER/DEMOLITION warning signage to the fencing. Lettered adjoining occupied units advising on nature/ duration of the works. 

Checked to ensure that all existing live services have been fully dislocated and no toxic substances were present within the structure. Ascertained structural stability of the workshop in order to determine if internal access was permissible. Checked the full scope and location of Asbestos Containing Materials within the structure and informed Contracts Administrator if any additional suspect materials were present.  This operation resulted in additional AIB being discovered, resulting in delays due to HSE Requirements and prolongation of contract. 

Transported to site suitable welfare facilities and 40yd capacity special waste skip. Transported to site articulated boom of adequate reach and located within the temporary fencing boundary.  (The boom provided an external safe working platform for the operatives removing asbestos cement sheets at height and were operated by an individual who was IPAF certified.) Issued SEPA with pre-notification Consignment Notice. 

Carefully dismantled existing roof sheets, wall cladding and fascia boards by cutting bolt fixings and using the articulated boom provided and lowered these materials to ground level. (Operatives thoroughly dampened down the sheets prior to removal utilizing hand held sprays). Deposited the asbestos waste materials directly into the sealed special waste skip provided. Dismantled sheets in a controlled bay-by-bay basis until all sheets were removed in their entirety and transported to a suitably licensed Landfill Facility. If was now safe to enter the structure;  operatives removed asbestos cement debris on the floor along with any other residual hazardous waste (oil/chemicals/paint etc). 

Transported to site a tracked demolition rig (30t) and its various attachments via a low-load transporter. This machine was carefully offloaded with a banksman in attendance. The initial operation was for the machine to use its bucket attachment 
to remove all accumulated guano from within the structure and deposit into a special waste skip. This machine was then fitted with its shear attachment, which cut the existing roof purlins into manageable sections whilst initially retaining bracing steelwork. The machine similarly dismantled column bracing/portal rafters working in a systematic manner from one end of the workshop to the other. The machine finally removed the remaining support columns before pulling all external perimeter walls into the existing building footprint.
The demolition rig effectively segregated the debris material removing steelwork and masonry from site separately. Once these materials had been cleared from site thus exposing the ground slab we fitted the machine with its bucket attachment. The machine then uplifted the slab/foundations of the existing workshop and removed all concrete debris from site. Resultant voids were infilled with suitable material and the site graded and leveled to suit existing contours.
We thoroughly cleared up the site including the Contractors Compound area. (Due to the previous use of the redundant workshop it is likely that materials removed below ground may be contaminated with various toxic substances – Materials removed were treated as contaminated waste and taken to a suitably licensed Landfill Facility.) 

The site was  handover to Aberdeenshire Council's site representative and all plant and equipment was remove from site. 

ACHIEVEMENTS & SUCCESSES:
Taking into account the additional AIB discovered on site at the start of the contract, all demolition and asbestos removal was completed on budget and within the agreed extension of time, all to the Client's satisfaction.