James Duncan House, Bell Street, Glasgow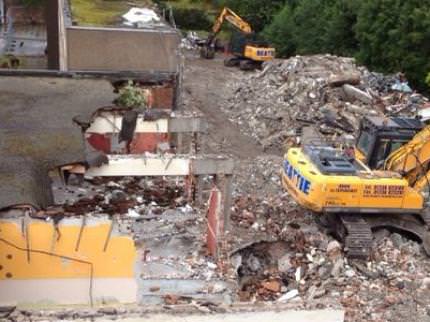 Location
331 Bell Street Glasgow G40 0TD
Client
Glasgow City Council
Date commenced on site
August 2012
Duration
3 months
Accidents/Incidents
0
Recycling Rate
96%
Value
£235,000 [Including Credits]
Background:
James Duncan House was formerly a home for the homeless yhat has lain empty for a considerable period of time.  The site consisted of:
A Five Storey Building, steel framed, flat roofed concrete bison floors, with basement boiler house over part area of building (also in a heavily vandalized condition).  The site was in a busy city environment within Glasgow City cente.
Specification:
Confirm isolation and termination of services to the structures – liaise with Client's Representative

Remove all asbestos containing materials in controlled conditions.

Soft strip services, fixtures, fittings and non-load bearing structures to facilitate more efficient waste processing.

Demolish building down to the underside of the ground floor slabs and upfill footprint of building including boiler house area.

Remove all surplus demolition materials, rubbish and soft strip materials arising to a licensed waste transfer facility.

Leave site level, clean and tidy on completion.

Considerable care and attention had to be taken, including hand demolition, adjacent to adjoining city thoroughfares.
Achievements and Successes:
Asbestos containing materials (ACM's) were identified in the Refurbishment and Demolition Survey throughout the buildings. These had to be removed in controlled conditions, in accordance with the Control of Asbestos Regulations 2012, and disposed of to a licensed tip.  When all the identified ACM's had been removed, operatives remained vigilant in case previously undiscovered asbestos was identified.
The properties did not contained high volumes of reclaimable building materials, however those that were salvageable were removed off site to a licensed tip.
Dust and vibration suppression was of paramount importance and measures were installed to ensure levels were kept to an acceptable level – intermittent monitoring was carried out to ensure this.