Merchiston Hospital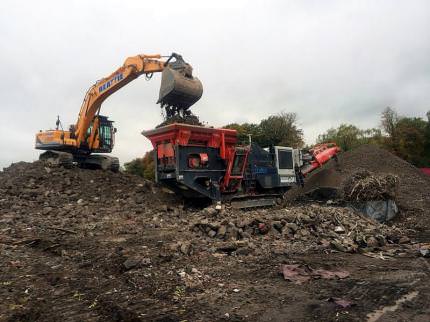 Location
Brookfield, Renfrewshire
Client
Greater Glasgow & Clyde NHS
Date commenced on site
March 2013
Duration
5 months 
Accidents/Incidents
0
Recycling Rate
93%
Value
£380,000 [Including Credits]
Background
Merchiston Hospital was formally a hospital for mentally ill and/or people unfit to look after themselves. The site consisted of eleven structures; the administration building was 2-storey and of load bearing concrete,. There were ten bungalow structures of more recent construction and comprised of brick construction with timber floors and a timber framed roof structure
Specification
Confirm isolation and termination of services to the structures – liaise with Greater Glasgow & Clyde NHS.

Remove all asbestos containing materials in controlled conditions.

Soft strip services, fixtures, fittings and non-load bearing structures to facilitate more efficient waste processing.

Demolish buildings down to the underside of the ground floor slabs, grubbing up all foundations to 3m in depth.

Backfill and compact with selected demolition materials foundations areas previously demolished

Remove all surplus demolition materials, rubbish and soft strip materials arising to a licensed waste transfer facility.

Leave site level, clean and tidy on completion.

Considerable care and attention had to be taken, including hand demolition, adjacent to an electricity "live" high voltage sub-station.
Achievements and Successes
Asbestos containing materials (ACM's) were identified in the Refurbishment and Demolition survey in locations across the site. These had to be removed in controlled conditions, in accordance with the Control of Asbestos Regulations 2012, in controlled conditions and disposed of to a licensed tip. When all the identified ACM's had been removed, operatives remained vigilant in case previously undiscovered asbestos was identified.
The properties did not contained high volumes of reclaimable building materials however we processed demolished concrete and brick to 6F2 infill material and sold to the construction industry.
Dust and vibration suppression was of paramount importance and measures were installed to ensure levels were kept to an acceptable level – intermittent monitoring was carried out to ensure this.