Removal of Parapet Walls, Glenfinnan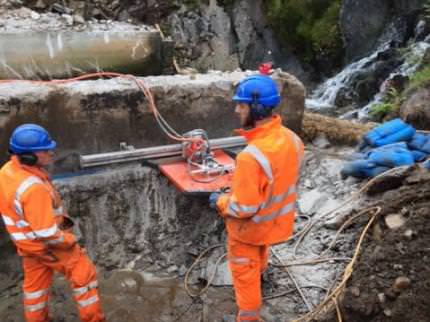 PARAPET WALLS, GLENFINNAN
CLIENT:    
TSL Contractors Ltd
LOCATION:                                                             
Glenfinnan, Argyll & Bute
DATE COMMENCED:                                               
14th July 2015
DURATION:                                                             
3 days
ACCIDENTS/INCIDENTS:                                         
0
RECYCLE RATE:                                                     
100%
VALUE [INCL CREDITS]:                                          
£3,447.00
BACKGROUND:           
George Beattie & Sons Ltd was contacted by TSL Contractors Ltd to provide technical expertise regarding cutting of two parapet walls located north of Glenfinnan, The Highlands
CONTRACT SPECIFICATION:   
A site survey was carried out to access the location and environmental conditions, as the parapets are located next to fresh Water River.
It was agreed to cut the parapet walls as this would allow TSL Contractors Ltd to remove the sections to a safe areafor breaking up into rubble subsequent disposal.
George Beattie & Sons Ltd attended site and carried out the works over three days using a Husquarva  track sawing equipment working closely with TSL Contractors Ltd ensuring no debris got transferred into the fresh water river.
ACHIEVEMENTS & SUCCESSES:                              
All work was completed on time, within budget and to the full satisfaction of the Client