Demolition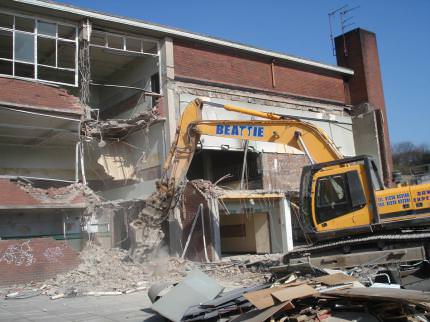 George Beattie & Sons Ltd is experienced in the demolition of all types of structures that are no longer economically viable and such demolition must be carried out with a high degree of construction knowledge and expertise. The demolition techniques used by George Beattie & Sons Ltd pay great attention to Health and Safety Regulations and the Construction (Design & Management) Regulations, together with the codes of practice for demolition which state the standards that must be applied to the planning and execution of demolition activities. In today's world the recycling of materials is an important part of the demolition process and Beattie Demolition take account of this element of their works during the planning and estimating stage of all contracts.
George Beattie & Sons Ltd has significant expertise in all aspects of demolition including:
Budget estimating
Structural assessment
Preparation of method statements
Risk assessments, and health and safety plans
Execution of the contract through to final completion and issue of health and safety file.
Typical demolition projects carried out by George Beattie & Sons Ltd include, but are not limited to the following:
Low rise tenemental properties
Private residential dwelling houses
Industrial buildings
Educational properties
Chemical processing plants
Governmental training establishments
Health facilities
Petrol filling stations
Pedestrian suspension and rail bridges to name a few